Clean, Safe and Beautiful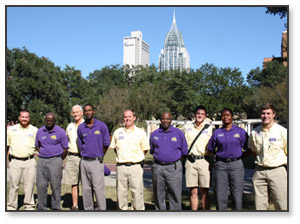 Two of the primary functions of the Downtown Mobile District Management Corporation (DMDMC) is to provide "Clean and Beautification" services to properties within the 75-block Business Improvement District (BID). The DMDMC contracts with Block by Block to provide these services. A dozen employees in signature purple and gold uniforms patrol the District daily, providing a welcoming presence to workers and visitors alike.
Stewards:
The Crewe of Stewards is charged with maintaining the appearance of the BID, and every day they conduct a litter patrol of the District. Additionally, they landscape areas in the public right-of-way, clean graffiti and power wash sidewalks.
Regents:
The Crewe of Regents provides concierge services in the District, including assisting stranded motorists, providing information to visitors and escorting workers and visitors to their cars after dark. If you need assistance, call the BID Services Hotline at 251-327-SAFE (7233).
10 Ways the Downtown Ambassadors Can Make Your Downtown Experience More Pleasant
Provide you with useful directions and maps.
Escort you to your destination.
Help you locate a business or service.
Call for police or medical assistance if you need help.
Provide information on parking Downtown.
Provide social services information to people in need.
Identify and report hazards.
Help keep Downtown clean.
Share a smile and a watchful eye.
Provide motorist aid.
For more information on BID Services, contact Operations Manager Jonathan Firquin at jfirquin@downtownmobile.org.
For career opportunities, click here.