Transportation
All roads (and rail lines and shipping lanes) lead to Downtown Mobile! We are served by Interstates 65, 10 and 165, U.S. Highways 90, 98, 43 and 45, two airports, seven rail carriers and the Port of Alabama. In addition, we offer reliable public transit, bus, ride sharing and a vibrant biking community.
WAVE Transit System
Ride the Wave! The WAVE transit system offers safe, reliable, cost efficient transportation within the Downtown district. For route maps, schedules, or real-time bus tracking, visit the web site at www.thewavetransit.com. The WAVE also operates a free circulator in downtown. moda! operates Mon-Fri 7:00 a.m. - 3:00 p.m. Map of moda! Route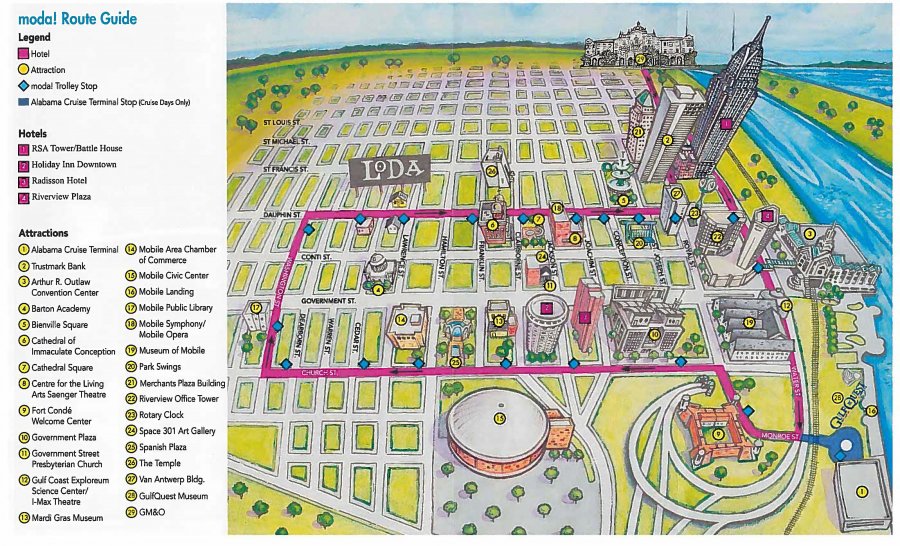 Ride Share
UBER and Lyft also operate in Downtown Mobile. In order to use these services, download and configure the apps from the iOS or Android app store and conveniently request a pickup via their services.
Biking Downtown
Downtown Mobile is a bike friendly community. There are lots of local resources dedicated to improving bike accessibility in the area. Visit the links below to learn more: