Saturday, May. 05, 2012
Downtown Mobile Cinco de Mayo Margarita Contest & Celebration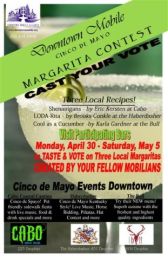 Calling all margarita lovers! Cabo Coastal Cantina, The Bull, and Haberdasher are hosting a Margarita Contest! Have all your friends stop by from April 30th- May 5th to cast a vote for their favorite margarita! In early April the Downtown Mobile Alliance collected recipe entries from local Mobilians and the results of the top 3 are in:

• LODA Rita by Brooks Conkle: Haberdasher
• Shenanigans by Eric Kersten: Cabo
• Cool as a Cucumber by Karla Gardner: The Bull

Once all 3 margaritas have been tasted and each location is stamped on your ballot, votes may be submitted. Don't forget, Cabo and Haberdasher have fun events planned for Cinco de Mayo and each location has delicious margaritas of their own available for your enjoyment. The overall winner will be announced on Monday, May 7th and the grand prize will be awarded!
Link: View Article